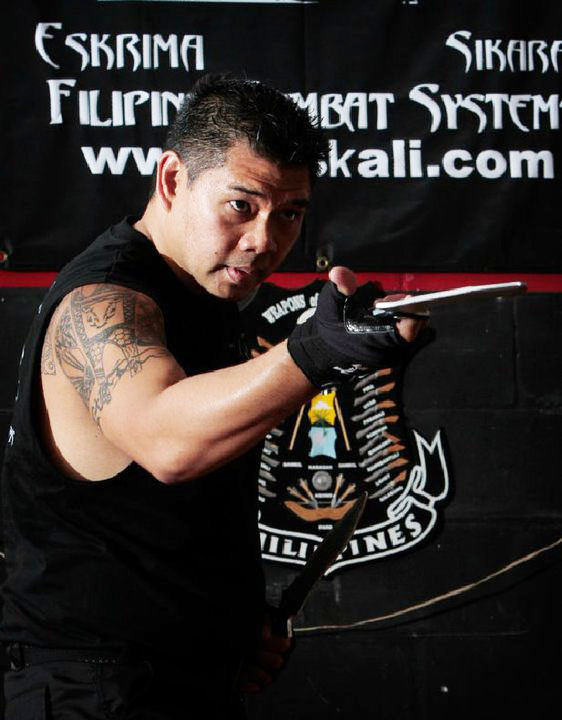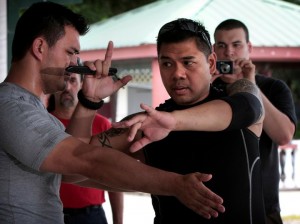 Ranks and Titles 
FILIPINO COMBAT SYSTEMS
Tuhon / Founder
SAYOC KALI / SAYOC FIGHTING SYSTEMS
Instructor: Tuhon Christopher Sayoc
Rank: Tuhon
COLLEGE OF SOKES AND GRANDMASTERS
Doctorate in Martial Arts Philosophy
MODERN ARNIS / MARPIO
Instructor: Punong Guro Dr. Remy Presas
Senior Master Rodillo B. Dagooc
Rank: Lakan Antas Lima(5) / Master in Modern Arnis
MODERN ARNIS
Instructor: Professor Remy Presas
Rank: Lakan Isa
SAYOC FIGHTING SYSTEMS
Instructor: Grand Tuhon Baltazar "Bo" Sayoc
Rank: Lakan Isa
PEKITI-TIRSIA KALI / STRATEGIC KNIFE DEFENSE
Instructor: Grand Tuhon Leo T. Gaje / Bjin Lateef Mateen
Rank: Lakan Isa
PEKITI-TIRSIA KALI / KALI OLYMPIC COMMITTEE
Instructor: Master Bjin Lateef Mateen
Rank: Lakan Isa
PAMBUAN ARNIS TULISAN
Instructor: Ama Guro Raffy Pambuan
Rank: Guro
ANCIENT ARTS ACADEMY
Instructor: Lakan Guro Eric Porschen
Rank: Lakan Guro
International Association of Karate-Kobudo
Promoted by: Grand Master Carlos Diaz
Rank: 8th degree black belt
WADO-RYU KARATE
Instructor: Shihan Mark Cody
Rank: Yon-Dan 4th Degree Black Belt
SHOTOKAN KARATE
Instructor: Sensei Larry Stone
Rank: Ni-Dan 2nd Degree Black Belt
DILLMAN KARATE INSTITUTE
Instructor: Sensei Larry Stone
Rank: Ni-Dan 2nd Degree Black Belt
WU MING TAO CHUAN FA
Instructor: Sifu Jim Bryan
Rank: Black Sash
TSUNG CHEN DO
Instructor: Grand Master Pasquale Giampietro
Rank: 1st Degree Black Belt
Experience and Accomplishments
Over 45 years experience.
Original Cast Member, "Art of War" Martial Arts Demo Team.
Featured in the book "Masters of The Blade" by Rey Galang
Produced and featured in over 15 Filipino Martial Arts videos.
Featured in several Martial Arts Magazines world wide.
Member, Latin America Grandmasters & Soke Council, Inc.
Member, Sayoc Fighting System Demo Team under Grand Tuhon Bo Sayoc.
Member, Kali Olympic Demo Team under Master Bjin Lateef Meteen.
Member, Kun Tao Family of Florida.
1983-1990, U.S.A. nationally ranked "Full-contact Stick Fighting" competitor.
1983-1990, U.S.A. nationally ranked "Weapons Forms" competitor
2000, World head of Family Sokeship Council International Hall of Fame "National Instructor of the Year".
2001, International Jiu-Jitsu Hall of Fame "Kali Master of The Year".
Over 100 wins in local and international Martial Arts competition.
Presently 

Founder and head of FILIPINO COMBAT SYSTEMS Organization and Martial Arts System.
Owner & Head instructor, Filipino Combat Systems International Headquarters, Auburndale, FL.
Founding member:  Grandmasters  Union of International FMA Organizations
World Union of Sokes Masters Grandmasters Florida State Representative.
Co-Author along with Mark E. Cody of the "Filipino Combat Systems" book.
Certified hypnotherapist.
Motivational/Personal Development Speaker. Trained and worked in Las Vegas, Nevada.
Founder of "The Warrior Mindset", personal development seminars.
President, Warrior Craft Blades.
Edged weapon instructor to be officially endorsed by Grand Master Remy Presas.
Teaching Flilpino Martial Arts seminars, world wide. Specializing in edged weapons.